We have a few reminders for you of ahead of the Christmas holidays.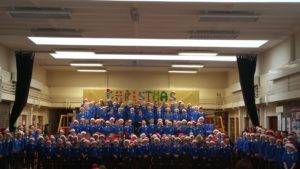 The Christmas play, "C.H.R.I.S.T.M.A.S. spells Christmas" will be performed in the school tomorrow, Tuesday 13th December at 1.00p.m. and 7p.m. as previously notified to you.
The Parents' Association will hold their Christmas raffle at both events. Sincere thanks to all of you who have contributed items for inclusion in the hampers. As usual there was an amazing array of festive goodies donated and some very substantial hampers have been assembled by the ladies on the Parents' Association executive. Tickets will be available at both performances.
We are delighted to host a Christmas Jumper day with proceeds being donated to Temple Street Children's Hospital. This will take place on Friday next 16th December. All children will be permitted to swap their school jumper for a coloured jumper on the day – it doesn't have to be specifically Christmassy. They should wear the rest of their uniform. We would ask for a donation of €2 towards this worthy cause.
The pupils in the senior classes, along with the teachers will be going carol singing on Friday at 1p.m. and again on Wednesday (21st) at 10a.m.
We will have the pantomime "Hansel and Gretel" performed in school on Wednesday 21st December at 1p.m. The Parents' Association have kindly agreed to fund this.
The school will close at 12.00noon on Thursday 22nd December for the Christmas holidays. The buses WILL RUN at this time.