Student Council 2022/23
Aims
To give pupils a voice and a way of helping to make decisions in school
To care for everyone in our school community
To work together to make our school a better place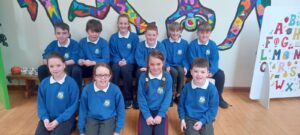 6th Class – Ellie + Rory + Ciara (Secretary) + John (Chairperson)
5th Class – Arlene + Cormac
4th Class –  Grace + Patrick
3rd Class – Lucy + Aaron
Student Council Representatives 2021/22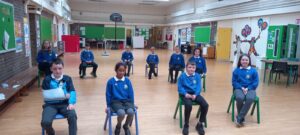 6th Class – Domante + Oscar (Chairperson)
5th Class – Bethany + Sean + Kevinas + Orla (Secretary)
4th Class –  Maryam + Conor
3rd Class -Tristin + Shonagh
LATEST NEWS
June  – This was a great month for us as we helped out with the promotion of our Ag Rith and worked with the PA to make sure everyone got their medal and fruit on the day.  We also helped out on the open day for all the new junior infants.
May – Launch Day for Scoil Éanna ag Rith was a really fu day and SC produced a Tik Tok video to launch our annual run.  We helped out at our healthy breakfast morning and had to be in school at 8am 🤩
April – The Infants had a wonderful time at the Easter egg hunt organised by SC.  We decorated the windows with Easter pictures to make the school look welcoming.
March – Seachtain na Gaeilge saw the G-Factor is school supported by SC.
February – Wellbeing week was super busy for our SC with afternoon tea, slipper day,  wacky dress up and of course the judging of the door affirmations.
December – Our Festive Door Decorating Competition was great fun for pupils and staff.  Congratulations to the winners in 6th class with their theme of Inclusivity in Scoil Éanna …… a worthy winner!!!   Enjoy the homework pass 6th class.  December also saw our hot chocolate and cookie day for the whole school ☕🍪……. it was a HUGE SUCCESS!
November – We are here to tell you about our next event.  Next Friday 26th November we will be holding a raffle for three Late Late Toy Show treat boxes.  1st prize will be a family box and 2nd & 3rd two individual treat boxes.  We will be round later with class posters and to answer any questions you may have.  Tickets €1 for 1 €2 for 3 (now that's a good deal!!)  So get your money ready and we'll be round selling raffle tickets.  We just have one rule …….. A maximum spend of €2
The money raised goes towards our December hot chocolate and cookie day for the WHOLE SCHOOL 🤩🤩🤩   Good luck everyone!!!
October – We are delighted to announce our annual Hallowe'en colouring competition.  This year you can do it in school or at home and use any kind of art materials.  All artwork will be displayed on our classroom windows for our friends from other classes to see.  Mums and dads are also welcome to have a look as they pass by in the mornings.  We will select a winner from each class.  This year our prize will be a HOMEWORK PASS (and everybody likes to get one of those!!!!) 😀😀😀
Good Luck Everyone  🤞