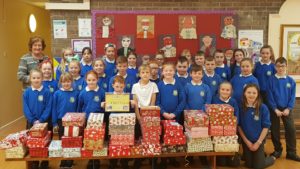 The children of Scoil Éanna brought in  shoeboxes with a range of simple Christmas gifts. Team Hope's  team of fantastic volunteers picked them up from the school last Tuesday  14th November .   Over the next few weeks  they will work hard to check that all Christmas Shoeboxes meet with customs and safety requirements, they seal them and send them on their way by truck or shipping container. Then  international partners will deliver your child' shoebox right into a child's hands – in hospitals, schools, shelters, churches, orphanages, community centres, mountain villages and family homes.
To see what happens next, click here to watch  Team Hope's video
Team Hope would like to say thanks to all those who contributed.
We give your Christmas Shoebox gift right into the hands of some of the world's most vulnerable children – many of whom will receive no other gift this Christmas. For some it's the first gift they've ever received.
It's hope, it's God's love, it's joy and excitement –
It's the whole of Christmas wrapped up in a Shoebox !
Thank you for sharing your Christmas with children who have so little – It means so much to them