On Friday the 11th of June Scoil Eanna once again took part in the Monaghan Athletic Board Large Schools Track and Field County Finals. The finals took place on the Athletic Track at the magnificent Peace Link Facility in Clones.
The school was represented by both a girls and a boys team. The girl's team consisted of Andrea Quinn, Macey Mc Kenna, Kamilla Grigaityte, Abbie Hughes, Olivia Mc Skean, Rachel Brennan, Edel Murphy, Aisling Duffy, Sarah Du Plessis, Erin Cassidy, Mary Quinn, Anna Mc Skean, Aideen Drury  and Aisling Dulska. The boys team  had the following as members – Eoin Sheridan, Simon  Du Plessis, Nathan Duffy, Jerome Lavelle , Martin Quinn, Evan Treanor, Éanna Curran,  Darren Duffy, Matthew Du Plessis, Jonathan Lavelle, Cian Sherry, Dáire Sheridan, Conor Curran, Dominik Vrabel and  Ruadhan Curran.
The boys competed well in all events and the two Sheridan brothers from Tullycorbet gained medals for the school. Eoin came first in the 80 metres sprint in the 1st and 2nd class category while older brother Dáire nipped in at the very end for a bronze  in the 800 metres in the 5th and 6th class section.
The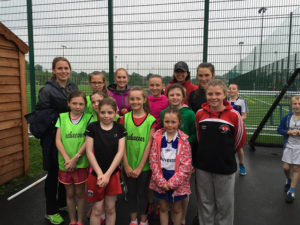 girl's team  however did even better winning four individual medals and two team relays. In the 3rd and 4th class category Rachel Brennan secured gold in the 100 metres while Edel Murphy  got the bronze in the  600 metres. In the senior section Erin Cassidy gained bronze in the 100 metres while Mary Quinn came second in the 800 metres.  In the  1st and 2nd class 4 by 100 relay Kamilla, Macey, Abbie and Andrea secured a bronze medal. Then a great night was rounded off  when the 5th and 6th class girls secured a 3rd gold medal of the night when they won the 4 by 100m relay. This team  consisted of Erin, Aideen, Aisling Dulska and Sarah.
This final gold medal then meant the girls had secured enough points to win the County title  for the best school in the girls category for the first time in the school's history. Big celebrations then followed.
Also big thanks to all who helped out on the night – teachers Mrs Murphy, Ms Mc Donald, Ms Mc Dermott and  Máire Durkin.