Scoil Éanna opened its doors for the first time on 1st September 2003 as an amalgamation of Scoil Bhríde Girls' School and St. Patrick's Boys' School. Both of these schools had shared the one campus since opening in 1975 as two separate schools.  For the first time in over 30 years the boys and girls in the Ballybay area could be educated in a coeducational, inclusive school.
The amalgamation marked the beginning of a bright new beginning for our school. Since then our school has grown from strength to strength. Over the years since we have completed major works to our school which has seen our electrical, plumbing and heating systems upgraded to a very high specification. We have also had our flat roof replaced with a new pitched roof.  These works were all grant- funded by the Department of Education and skills.  The school playgrounds have also been upgraded.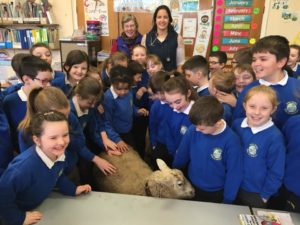 At present we have a teaching staff of 18 (see staff list). We have 9 mainstream class teachers, 4 special education teachers and 3 panel supply teachers . We also have a full-time secretary, 3 special needs assistants, a cleaner and a caretaker. Our facilities consist of nine mainstream classrooms, a meeting room, two offices, a first-aid room and a staff room. Our main hall provides a venue for school celebrations, assembly and also games and PE lessons. All of our mainstream classrooms are equipped with interactive whiteboards. We have three playground areas designated to different class groupings. We also have an outdoor classroom.
Contact Details
School Hours
Infant Classes: 9.00am – 1.40pm
1st – 6th Class: 9.00am – 2.40pm
Morning Break: 10:50am – 11:10am
Lunch Break: 12:40pm – 1pm
Lunches
We have a very effective healthy eating policy within our school. We encourage children to  eat fruit to promote further the importance of healthy eating. Friday is 'Treat Day' and children are permitted to bring a small treat.
School Uniform
The school uniform consists of a blue crested sweatshirt (available from Crawford's Drapery, Main Street, Ballybay), white polo shirt and grey trousers/plain navy track bottoms or grey skirt/pinafore with grey tights. Children should wear black shoes. Runners must be worn for P.E. Velcro fastenings are more suitable for infant classes. Parents are asked to label all children's property, including sweatshirt.