Updates and Upcoming
This week has been a lovely smooth transition back to school after a very well deserved Easter break.  The sun is shining and the children have returned rested and happy to begin what will be a busy 3rd term.
I thank you for the completion of your Parental Declaration Forms on the return to school after the Easter break.  This time round I created a digital version, which I hope people found easier to use. In line with government guidelines a Parental Declaration Form must be completed for each pupil after every absence.  It is essentially the new 'absent note'. With this in mind I have added the digital link to our website for you to use.  It does not need to be printed you simply complete on the day your child returns from absence and hit the submit button. The form will then go directly to our system.  This is a much 'greener' approach and reduces the amount of paper here in school, whilst still retaining records.
Can I PLEASE remind parents again that children should not be on the school ground before 9am to prevent congregating and the mixing of class bubbles.
A staff planning afternoon had initially been booked for January but due to the school closure it could not take place. This date has now been rescheduled for next Thursday 22nd April.  Therefore, school will close @ 12:30 for all children. Buses will run as normal and children will exit in the usual staggered routine.
This morning we received a wonderful FREE delivery of over 200 native trees from Stranooden group water scheme.  They are promoting a community initiative called 'Let it Bloom' – go pesticide free. They seek to protect local drinking water sources, local birds, bees, butterflies and nature and to take action against climate change.  They simply ask each child to display the Let It Bloom sticker on their BLUE wheelie bin and plant a native tree. Each child will receive their tree today.  It would be lovely if children could post pictures of themselves planting their tree to Seesaw/Google Classroom to make a display in the school.  This will be something positive to look back on as both the tree and your young child blossom and grow.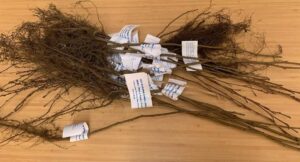 Just a quick reminder that the photographer will attend the school next Wednesday morning, I know Gráinne has already communicated with you regarding this.  Unfortunately, due to the Covid-19 restriction this year we will be unable to facilitate the group photographs for Junior Infants and 6th class.
It is our intention this year to continue, as we would in the final term, with our Scoil Éanna ag Rith programme.  This is our 9th year and we feel the run is an important element of what we represent here in Scoil Éanna with regard to the importance of health and fitness in our daily life.  The months that have passed since the beginning of the pandemic have certainly given rise to more self-awareness around the importance of mental wellbeing.  We all know the importance of daily exercise and it has indeed been a positive outlet for many people during this difficult time.  Obviously with the continuing COIVD-19 restrictions we have again been forced to rethink how we can facilitate the event.  We have decided to hold a virtual run/walk where children, their families, pets, neighbours and friends can take part in a virtual run/walk over the June bank holiday weekend.  More details will follow.  We would love as much support as possible to make it a fun event for the children and our entire school community and any money raised will go towards school funds.  To launch our Scoil Éanna ag Rith programme here in school we will host a GAA jersey day on Wednesday 5th May where children can come to school in their favourite GAA jersey or t-shirt.  We ask please that school PE tracksuit bottoms are worn on this day as it will be an active day!
I thank you again for all your support and I hope the sun continues to shine on us for the rest of the term as we slowly inch closer to what we remember as normality here in Scoil Éanna.
Ps don't forget to plant those native trees ASAP.